You can hire our beautifully refurbished function room for your event or party and if you'd like us to, we can provide you with a DJ and a buffet. There is also a balcony with a stunning view that is directly accessed from the function room.
Wedding Receptions
Christenings
Birthday Parties
Christmas Parties
Work Dos
Group and Business Events
Gigs
From just £100 and with a rapidly filling calendar, it is important that you contact us and book early to avoid disappointment.
We provide various hot and cold buffets upon request which can be added to or changed as requested: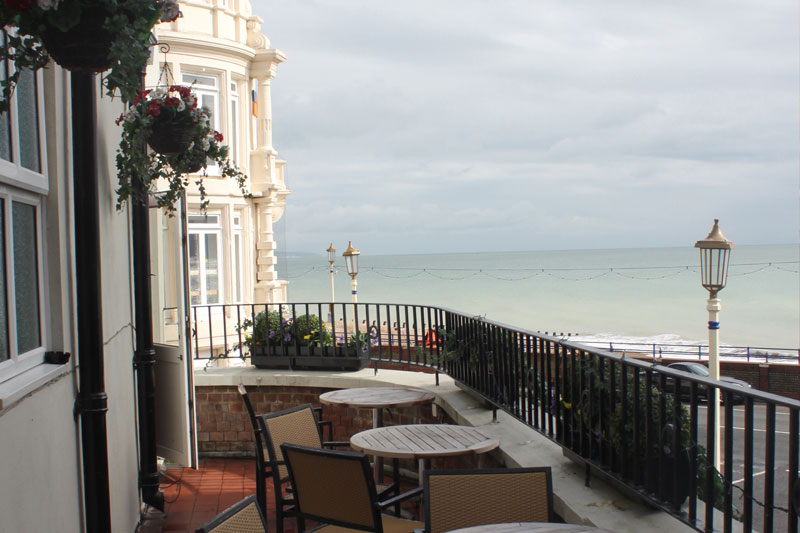 Option One – £6.50 per head
A slate of Homemade bite sized Vegetarian Quiche
Open rustic rolls of Tuna Mayonnaise and Egg Mayonnaise served on a bed of Salad
Cheese board of English and French Cheeses decorated with Grapes and Homemade Onion Marmalade
A bowl of Couscous
A bowl of Homemade coleslaw
Sausage Rolls
Vol au Vent's filled with Fresh Water Prawn's in a Marie Rose Sauce on a bed of Salad and decorate with Lemon
Sliced Cold Meat Platter: including sliced Beef, Turkey and Ham served with English Mustard, Cranberry Sauce and Horseradish
Nachos with a selection of Homemade Dips
Mini Pork Sausages
Onion Rings
Vegetable Samosas
A Platter of Onion Bhaji with a selection of Dips
Baskets of warm brown and white rolls
Slate Continental Meat and Pate Platter served with dishes of Olives and Houmous
This includes all cutlery, crockery plates and white napkins
Option Two – £10.50 per head

A slate of Homemade bite sized Vegetarian Quiche
Open rustic rolls of Tuna Mayonnaise and Egg Mayonnaise served on a bed of Salad
Cheese board with French and English Cheeses, Homemade Onion Marmalade beautifully decorated with Fruit
A bowl of Homemade Coleslaw
A bowl of Couscous
Sausage Rolls
Vol au Vent's filled with Fresh Water Prawn's in a Marie Rose sauce on a bed of Salad and decorated with Lemon
Sliced Cold Meat Platter: including sliced Beef, Turkey and Ham served with English Mustard, Cranberry Sauce and Horseradish
Nachos with a selection of Homemade Dips
Mini Pork Sausages
Slate Continental Meat and Pate Platter served with dishes of Olives and Houmous
A Platter of warm Onion Bhaji with a selection of Dips
A Platter of warm BBQ chicken Thighs
Thai Battered Prawns on a beautiful bed of Thai Salad sprinkled with Chilli and Papaya dressing
Warm Vegetable Samosa Platter
Smoked Salmon Platter decorated with Lemon and Cucumber
Baskets of warm Brown and White Rolls
Selection of Cakes
This includes all cutlery, crockery plates and white napkins
Option Three – £12.50 per head

A slate of Homemade bite sized Vegetarian Quiche
Cheese board with French and English cheeses, Homemade Onion Marmalade beautifully decorated with Fruit
A bowl of Couscous
A bowl of Homemade Coleslaw
Vol au Vent's filled with Fresh water Prawn's in a Marie Rose sauce on a bed of Salad and decorate with lemon
Sliced cold Meat Platter with Home Roasted Beef, Dry Cured Ham and Turkey Breasts served with condiments of English Mustard, Cranberry and Horseradish
Nachos with a selection of Homemade Dips
A Slate of Continental Meat and Pate' served with dishes of Olives and Houmous decorated with Sweet Pearl Peppers and Caper Berries
Warm Onion Bhaji with a selection on Dips
A Platter of warm BBQ Chicken Thighs
Thai Battered Prawns on a beautiful bed of Thai Salad sprinkled with Chilli and Papaya dressing
Vegetable Samosa Platter
Smoked Salmon and Crevette Platter decorated with Lemon and Cucumber
A Slate Platter including a Skillet of Homemade BBQ Ribs, baskets of Onion Rings and buckets of Sweet Potato Fries
Baskets of warm Brown and White rolls
Selection of Cakes and Petit Fours
This includes all cutlery, crockery plates and white napkins

[ngg_images source="galleries" container_ids="2″ display_type="photocrati-nextgen_basic_slideshow" gallery_width="600″ gallery_height="400″ cycle_effect="fade" cycle_interval="10″ show_thumbnail_link="1″ thumbnail_link_text="[Show thumbnails]" order_by="sortorder" order_direction="ASC" returns="included" maximum_entity_count="500″]